In this article, we look at the best cases you can buy for the Samsung Galaxy Tab S8. Let's see how they stack up. But first, what you need to consider when buying one.
What to consider before buying a cover
Design: as you'd expect, cases come in different colors and designs. Better yet, you can get customizable cases allowing you to add flair and personality to them.
Quality: this is arguably the most crucial aspect you need to consider. A case should protect your Samsung Tab S8 without failure. There are different qualities in the market with the highest fetching the highest price. While budget is a factor, we'd recommend going for high-quality cases.
Features: while a case's primary function is to protect, it should also improve functionality. If possible, go for cases with an S Pen holder, keyboard, or kickstand.
Price: Finally, the price should also be a determining factor. Buy something within your budget but ensure it is of high quality.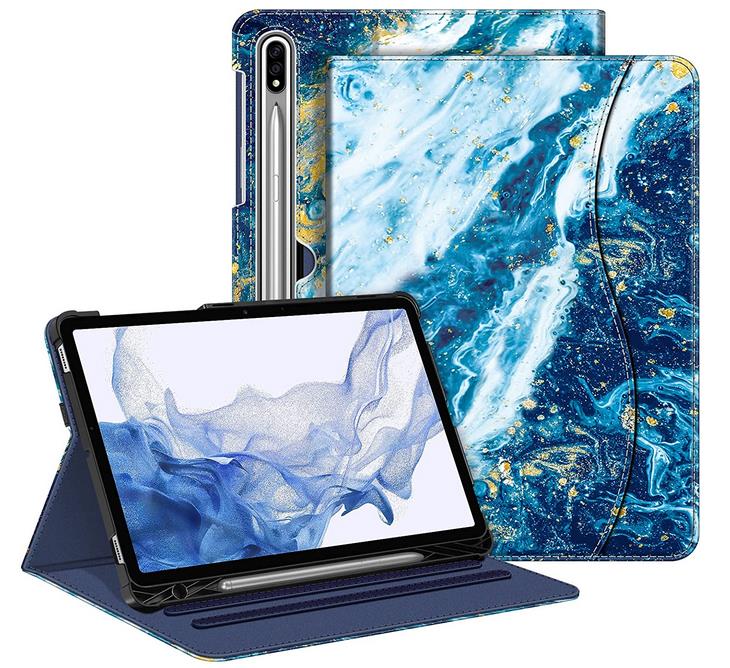 First on the list is this case compatible with the Tab S8 and S7. It comes with a trendy Z-Sandy Wave color that significantly improves the aesthetic aspect of your tab. And to improve durability, it comes with a leather exterior and a soft silicone interior. This ensures it is not only soft on your hands but also the tab.
The premium leather keeps scratches, fingerprints, dirt, and other elements at bay. The soft silicone absorbs shock from impact while the air guard corners ensure your tablet stays intact in case of accidental drops. You also get the auto sleep/wake feature thanks to the robust magnets.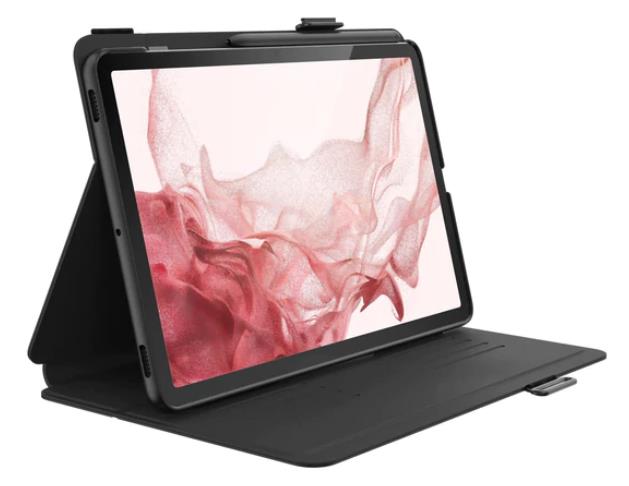 Yet another S7 and S8 compatible case you can buy. It comes in an elegant dark-themed color, which improves the aesthetic touch of the tablet. What's more, it is a subtle color mitigating shouting concept in most cases. The case is compatible with the Samsung S Pen and comes with a penholder for safe storage.
As you'd expect, it is slim and lightweight allowing you to carry it around with ease. And since it comes with raised bezels around the screen, you can rest assured the screen stays neat. While the interior is soft, you get a hardcover protecting the tablet from bumps, scratches, and more.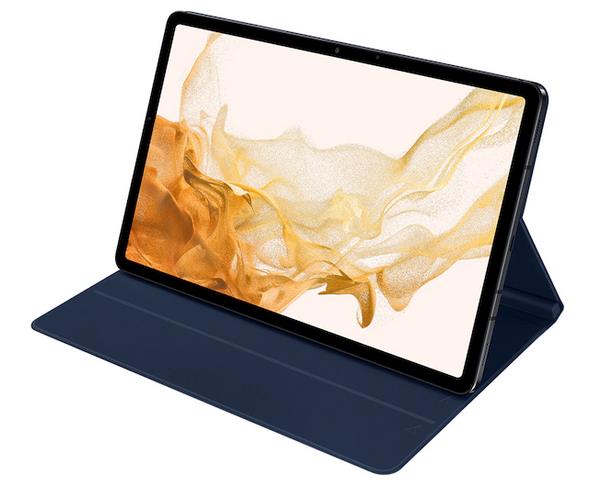 Well, why not get a cover case from Samsung? This stylish case from Samsung comes in different colors such as navy, light gray, and other colors. The foldable front cover ensures landscape viewing and typing orientation. And as you'd expect, it is compatible with the Samsung Pen and comes with a storage area.
It is easy to detach and attach to your tablet thanks to the robust magnets. With a front flap with strong magnets, auto sleep and wake is a flap away. Enjoy elegance and practicality with this Samsung case cover.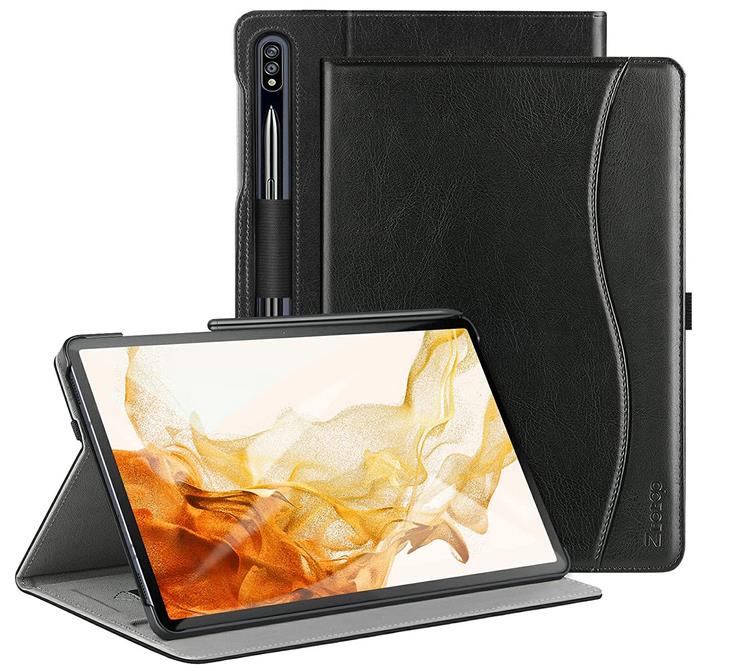 If you want a notebook-like case, you should get this Ztoptop case. The leather exterior exudes a sense of class and prominence. If this is you, then this is the perfect choice for you. Like other premium cases, it comes with a foldable flap. And with it, you get several angles for writing and viewing.
This allows for hands-free tablet use. You can also use the Samsung S Pen with this case. Besides, you get a pencil holder coming with magnetic attachments. The lightweight and slim design ensure you can use it without additional bulk.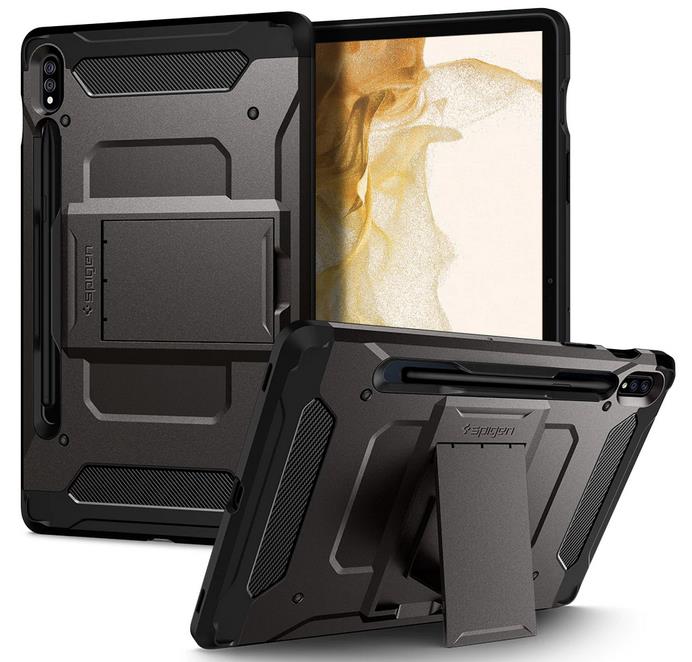 If you are looking for a case that case serves you in harsh environments, this is the perfect choice for you. developed by Spigen, the case comes in a military-grade design ensuring it can withstand scratches, bumps, and impacts. What's more, you get a robust kickstand for portrait and landscape orientations.
You can choose between two colors: black and gunmetal. While it comes in a rugged design, it exudes elegance thanks to the even contours and precise cutouts. With raised bezels around the screen and the camera, scratches and dirt are kept at bay. As you'd expect, it is compatible with the Samsung S Pen.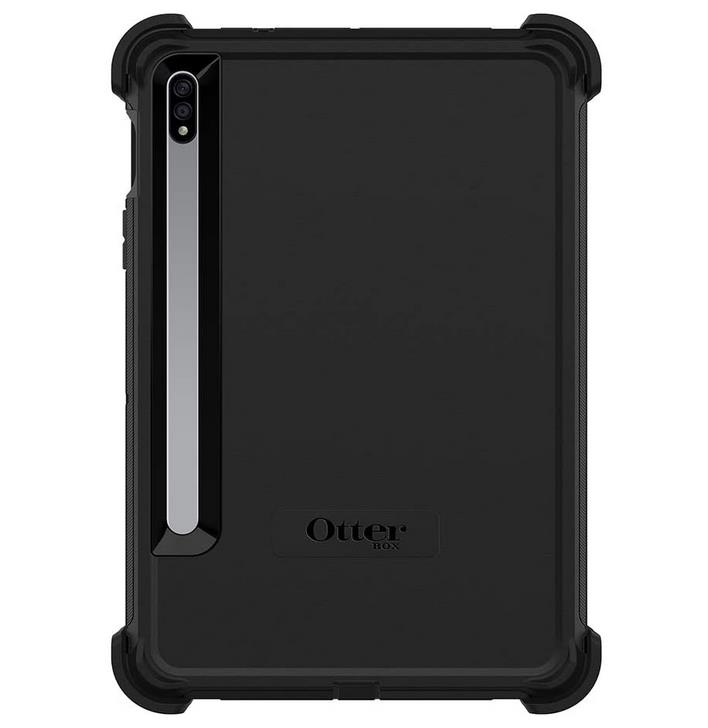 Yet another robust case to consider buying. Coming in a rugged design, it protects your tablet against bumps, scratches, and other elements. What's more? It has reinforced air guard corners ensuring maximum absorption of shock in case of accidental drops. It also comes with a pen holder so you can keep your Samsung S Pen safely.
And with integrated magnetic attachment, the pen is held firmly. The hidden stand allows you to use the tablet hands-free in landscape and portrait orientations. With it, comes a lifetime warranty so you can request for replacement should you encounter manufacturing defects.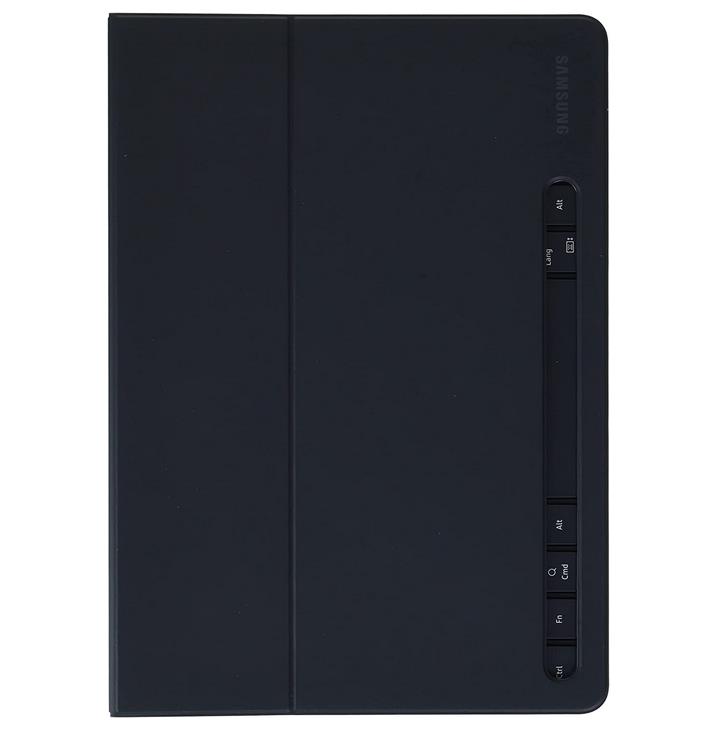 Finally, we have this slim and elegant case you can order today. unlike others on the list, it comes with an inbuilt keyboard for improved practicality. Besides, the cover protects the screen from damage and other elements. The keyboard comes with large keyboards so you can easily work around your projects.
And thanks to the robust magnets, you get an instantaneous sleep/wake feature. A pen holder is also integrated with powerful magnet attachments.
Final verdict
As you can see, you can buy many cases for your Samsung Galaxy Tab S8. The entire list has some of the best in the market, so you can buy either. While at it, consider the quality, design, and budget.