Living in a space with optimal temperature and humidity levels is not only convenient but a boon to your health. It is for this reason you need a device to monitor such conditions. And here is where a thermometer comes into play.
In this article, we look at seven of the best thermometers you can use for your home or any other living space. Let's see how they stack up!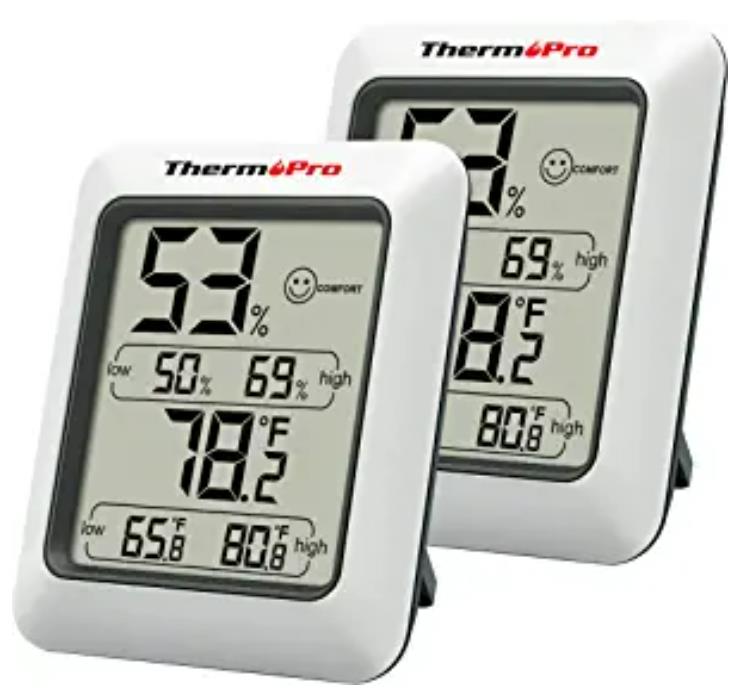 First on the list is this thermometer from ThermPro. It comes with an air comfort indicator showing the humidity levels of your room. It can indicate Wet, Comfort, or Dry conditions. And thanks to the quick refresh rate of ±2~3%RH and ±1°F, it can detect even the smallest fluctuations in room conditions.
Besides, it updates its data after every 10 seconds. And to give you a range of your room's temperature and humidity levels, it indicates the highest and lowest humidity and temperature. This ensures you have a healthy room free from skin dryness, allergens, and others. You'll fall in love with the simple yet compact design this thermostat comes with.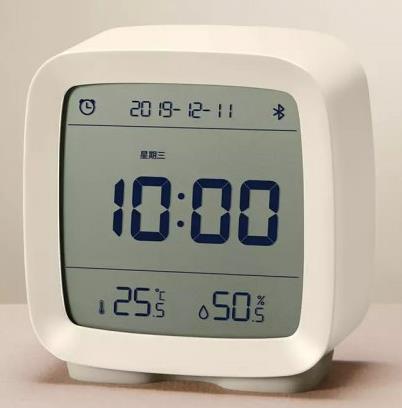 If you desire a thermometer to place beside your bed or workspace, this is the perfect choice for you.it comes in a compact design resembling that of a conventional alarm clock. With it, you can read the temperature and humidity levels in your room. And thanks to the LCD screen, you can adjust the screen light for day and night viewing.
You get a buttonless thermometer so you don't have to mess with the settings. It also features a silicone finish for improved aesthetic aspects. As such, not only can you use it in your bedroom but also in other rooms. You can even adjust the backlight depending on the room light.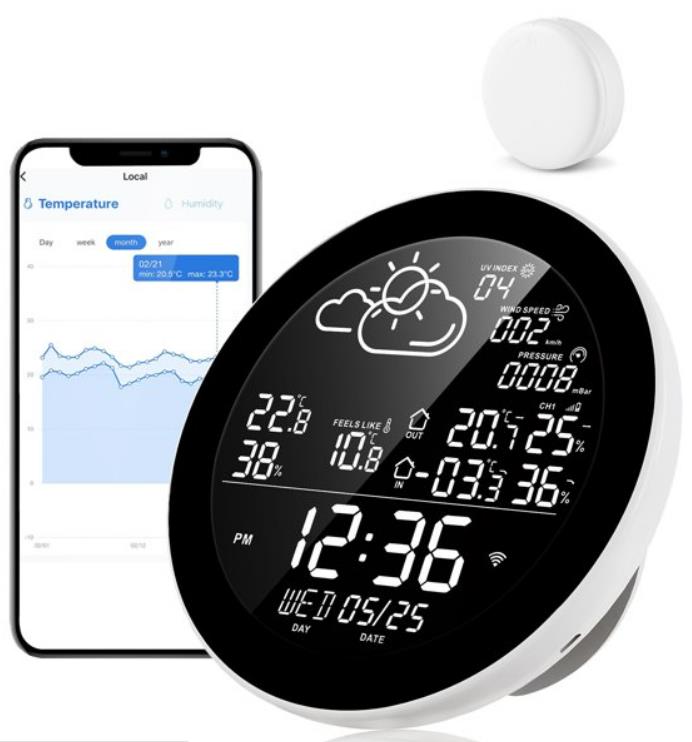 This is no doubt a compact weather reporting device. Not only does it measure the humidity and temperature of your room but also displays weather forecasts based on your location. With it, you can gauge the wind speed, air pressure, UV index, and more. As such, you can plan your day without much hassle. This is thanks to the wireless temperature forecast technology it comes with.
Thanks to the tabletop design, you can place it on your desk or any other surface. And since it is lightweight, you can carry it when traveling or camping. What's more, it comes with a latch which allows you to hang it on the wall.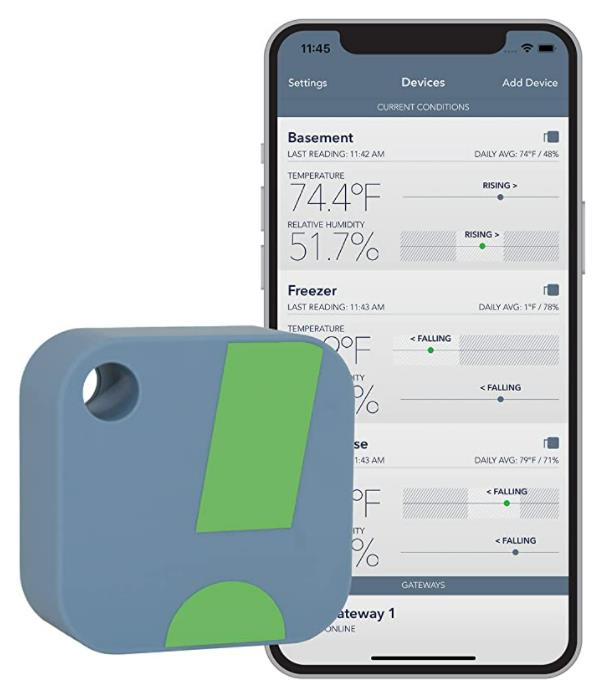 Let's face it, you can do just about anything with your phone. From monitoring your health to tracking your financial habits. And now, you can monitor the humidity and temperature of your room. This wireless thermometer connects to your phone showing you real-time changes in temperature and humidity. What's more, you can use it to monitor outside weather changes.
And thanks to the small design, you can place it just about anywhere. From your refrigerator, kitchen, bedroom, and more. In fact, it is so tiny that people may mistake it for a toy. You can use Bluetooth or WiFi to connect with your phone. Once conditions exceed the minimum or maximum settings, it will automatically send you push notifications.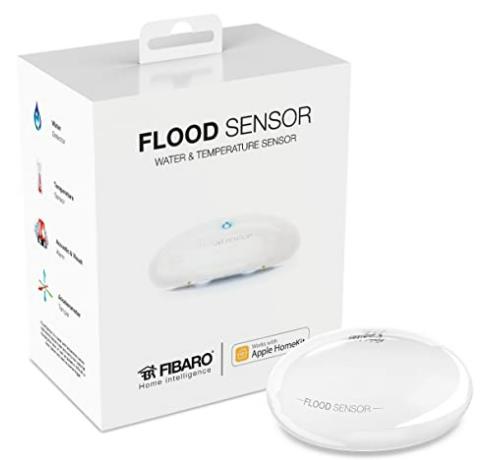 Well, if you want more versatility, this is the perfect choice for you. Not only does it measure temperature and humidity but also senses water leakage. It also comes with an iOS app so you can get notifications straight to your phone. Unfortunately, it does not support Android devices.
And thanks to this functionality, you can control it remotely via your iPad, Apple TV, or any other Apple device. In case of flooding, it will ring the siren so you can know where the flooding is taking place. The best part? It does not sick meaning you can spot it with ease.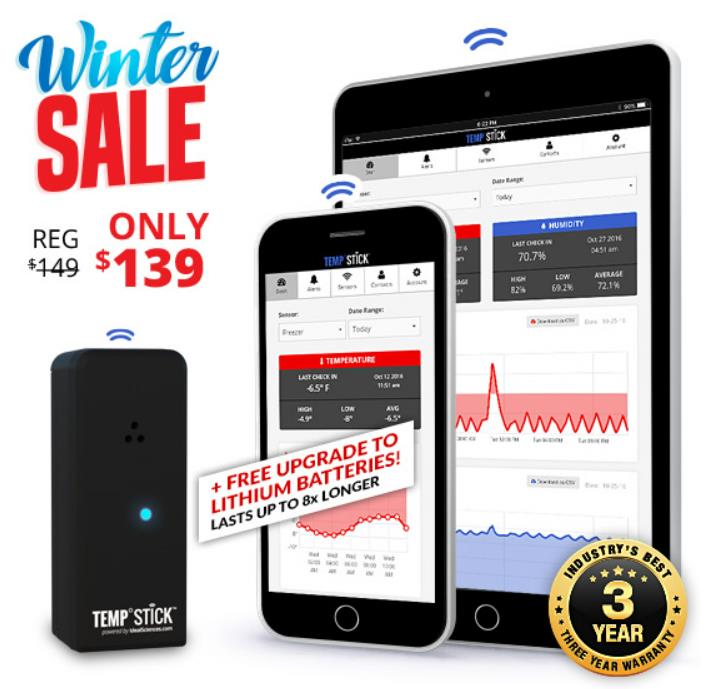 This thermometer measures temperature between -40 F and 140 F and humidity levels between 0 and 100. This ensures you get nothing but accurate readings regardless of where you are. You can configure it to send notifications to your phone or/and email so you can monitor changes in your room. You also identify trigger points so you can edit them when needed.
You can access updates wherever you are without paying a dime. Fortunately, you get an Android and iOS app for improved convenience. The stick comes with 2 AA batteries that last up to 12 months. With a high-accuracy temperature and humidity sensor, you get real-time changes in conditions. The LED shows when the device is monitoring changes.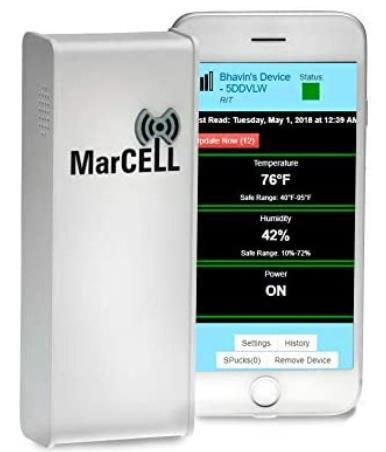 Finally, you can get the MarCELL monitor that comes equipped with must-have features. It is intended for homes, greenhouses, boats, and more. Just place it at a strategic place and it will do the reading. You can use it in areas with Verizon cellular signals. However, you need to pay a monthly subscription of $8.25
Like most premium thermometers, you get instant notifications via email, text, or calls. Fortunately, you don't get them with every change, rather, in case of power loss or conditions reaching critical levels. As always, you can monitor your room from any part of the world.
Final verdict
If you want to keep your spaces healthy, you need to monitor the temperature and humidity levels. And this is what the above thermometers help you do. The best part, they allow you to connect with your phone so you can get updates on the go.