Apple's latest Watch Series 7 was launched on October 15 last year and has a larger display, two different sizes: 41mm and 45mm, and faster charging, among many other cool features.
Starting at $399, the Apple Watch 7 is a high-end series looks amazing, delivers exceptional features, and helps you track daily activity with its long battery life.
The new Apple Watch 7 series has a new rounded design and a gorgeous display that needs to be protected from scratches and shattering to prolong its life and maintain the resale price as well.
So if you've got your hands on the latest Apple Watch 7 Series or are deciding to buy one, then you should buy a screen protector for it as well.
Things to Consider When Buying a Screen Protector for Your Apple Watch

Make Sure to Get the Right Size!
When buying an apple watch screen protector, make sure it is compatible with your Apple Watch Series model. Apple Watch Series 7 is available in 41mm and 45mm sizes, so a screen protector and case should be made specifically for the size.
The right size will ensure your apple watch is protected from everyday wear and tear. An incompatible size will do more damage to the watch than protect it.
Opt for a Screen Protector With Case
Screen protectors for Apple Watch come in basically two different types. One sticks directly to the apple watch screen, while the other combines with a protective case for all-around protection.
The screen protectors that stick on the screen prevent scratches and are barely noticeable but do not protect the edges of the watch. While a case plus screen protector offers complete protection against scratches, shocks, and shattering of the glass.
Check Screen Protector Material
Screen protectors are made of TPU, PET, or tempered glass. TPU is a very thin, durable plastic, that provides protection against bumps, and scratches. PET is also another type of plastic that protects apple watch screens from scratches, but it can discolor over time.
The best option is Tempered glass which is more durable than PET and TPU do not discolor over time. The only drawback of a tempered glass screen protector is that it can shatter upon hard impact, which can cause scratches on the screen.
Best Screen Protectors for Apple Watch Series 7
Here are our top picks of Apple Watch Series 7 screen protectors that you can buy!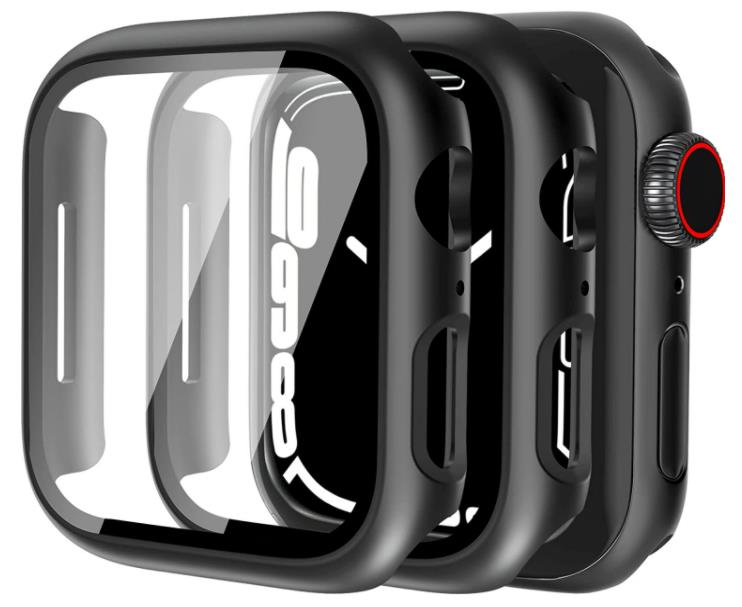 Key Features:
Durable Tempered Glass
Ultra-thin and Glossy
Precise Cutouts
360 Degree Drop Protection
HD clarity
QHOHQ's full coverage protective case is made with a hard PC shell which has an ultra-slim design and offers precise cutouts for non-interruptive access to all buttons. You can install this protective case and screen protector without a hassle due to its compatible fit and design.
The case protects your Apple watch series 7 against daily wear and tear, prevents fingerprint residue thanks to its electroplated metal film processing technology, and also offers a 99.99% HD clear view. Moreover, the screen protector is super responsive to touch, so it feels like you're touching the original screen directly.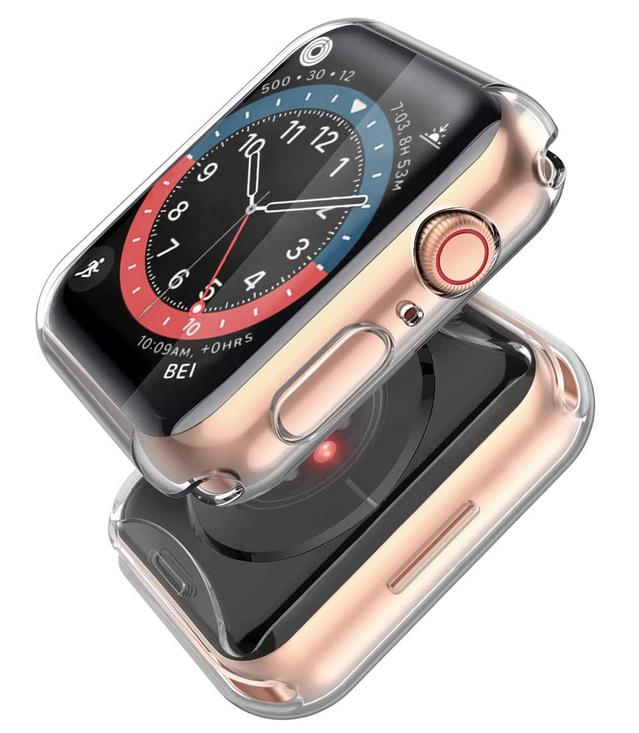 Key Features:
High-quality TPU material
Easy to install
Precise Cutouts
Scratch-resistant
Misxi screen protector and case cover have a precise design with protective edges that prevent all kinds of scratches and damage from bumps. Made of high-quality TPU material, this case offers all-in-one protection and has precise cutouts for easy accessibility.
The case is easy to put on and can support charging directly, so you can power up your apple watch without having to take off the case every time. The soft TPU has a clear appearance and will not be yellow over time.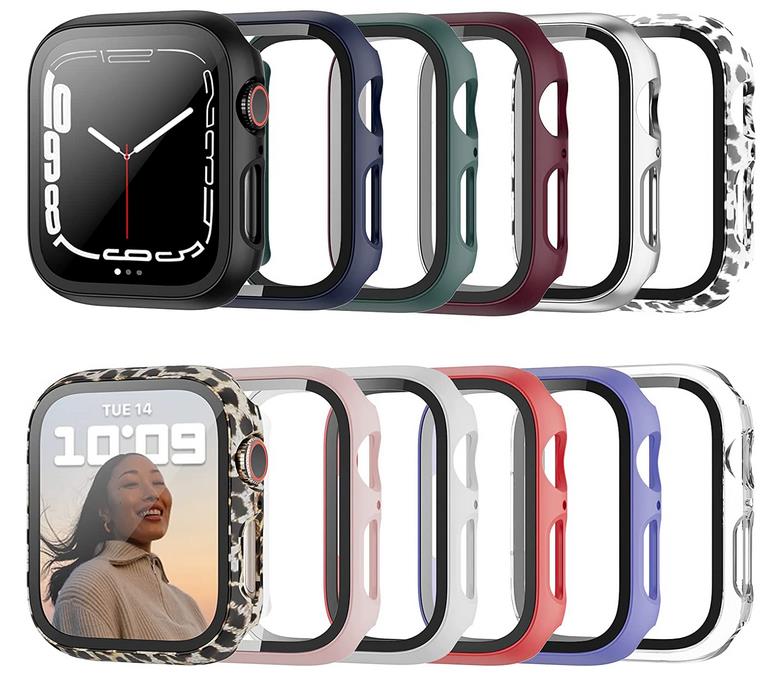 Key Features:
Tempered Glass Screen Protector
Hard PC case material
High Transparency
Precise Cutouts
Scratch-resistant
With a built-in tempered glass screen protector, this matte pc case protects your expensive apple watch 7 from scuffs, bumps, and scratches. The case preserves the original quality and brand new feel of your apple smartwatch, provides HD clear view and does not reduce touch responsiveness.
The case is available for both sizes and has different patterns for you to buy and customize your smartwatch. That's not all, the case has precise cutouts as well, and a lightweight design to avoid a bulky feel while providing superior protection.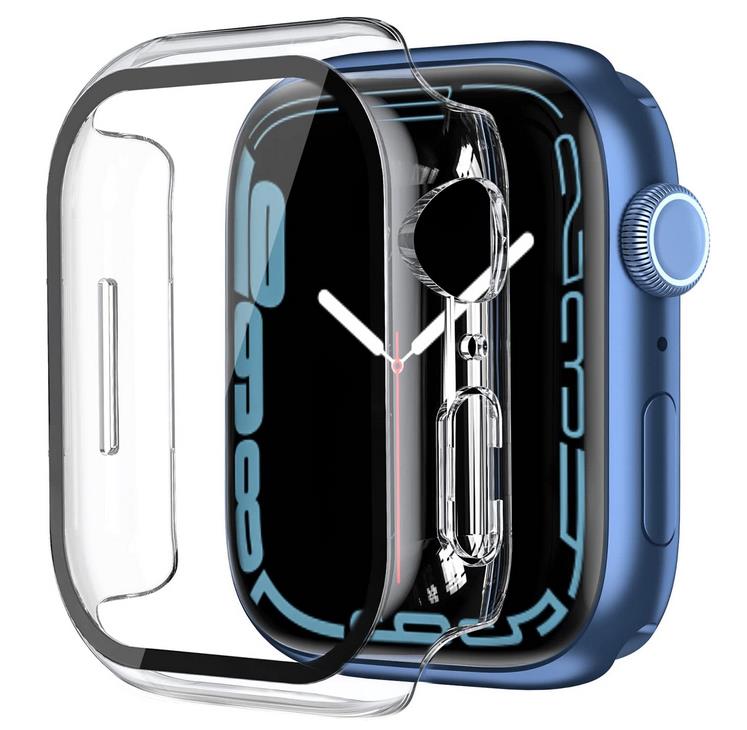 Key Features:
Tempered Glass Screen Protector
Slim Case made with PC Material
HD Clarity
Anti-yellowing
Precise Cutouts
The Smiling 2 Pack case is highly recommended for Apple Watch Series 7 users as it has a built-in tempered glass screen protector that offers HD clarity and premium protection against all possible damage.
Compatible with the Apple watch series 7 41mm, and 45mm model, this case has a slim design made with durable PC material to protect the edges of your premium smartwatch. Besides that, the case and screen protector has an anti-yellowing coating and precise cutouts, so all buttons and features of your Apple watch can be accessed easily.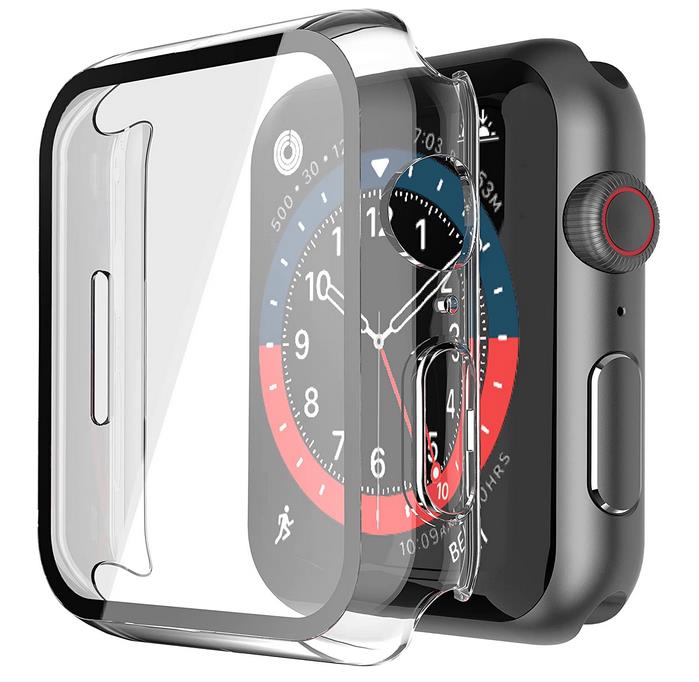 Key Features:
Tempered Glass Screen Protector
Case made with PC Material
Touch Responsive
Easy to install
Precise Cutouts
This ultra-thin 2-pack Hard PC case by Misxi is perfect for you if you have the latest Apple watch series 7. With curved edges and a full-front built-in tempered glass screen protector, this case protects your premium Apple watch against all damage.
Even though this cover does not support swimming, the case has anti-shock and anti-fall features, making it a worthwhile investment if you do not swim or prefer wearing the Apple watch while swimming. Other than that, the case is easy to install, the screen protector is fully responsive, and you can even swap watch bands without having to take off the case.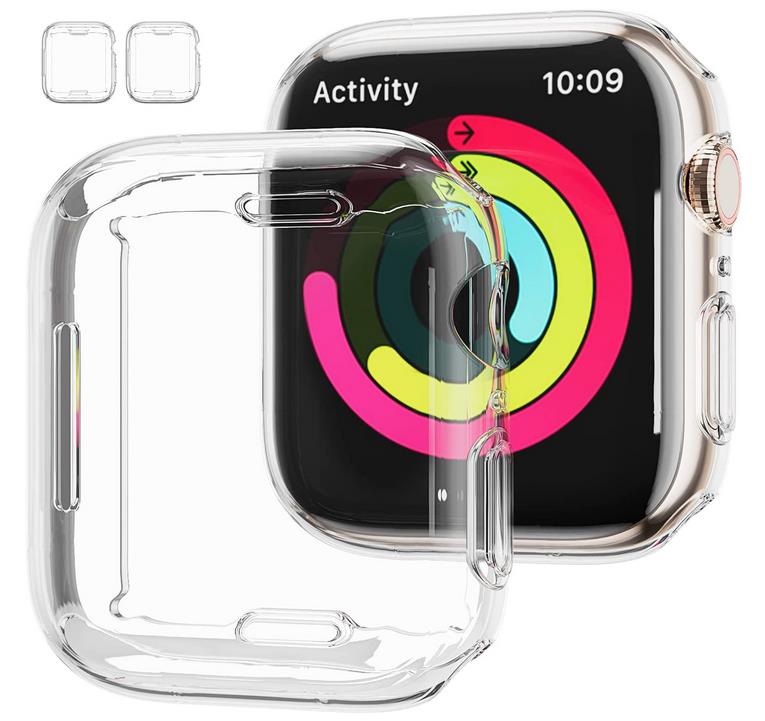 Key Features:
Soft TPU Material
Easy to install
Touch Screen Accuracy
Precise Cutouts
HD Clarity
Last is the JZK 2 pack screen protector case for Apple watch series 7, which covers the watch screen and edges for all-around protection. The case is made with soft TPU that protects against bumps, drops, shocks, shattering, and scratches.
Moreover, the case is designed to provide 100% touchscreen accuracy, no residue, and provide HD clarity so you can use your Apple watch without any interruption. With precise cutouts, this apple watch case has easy access to buttons as well and doesn't get in the way of the speakers, mic, and sensors.
Conclusion:
While it is quite tempting to start using your Apple watch series 7 right out of the box, it is recommended that you invest in a quality screen protector for your premium smartwatch to preserve its original quality and appearance by preventing damage.
We hope this list helps you find the best screen protector for your latest Apple Watch Series 7, so your brand new watch can look great for a long time.