So you want to keep your camera lens working for a long period?
Well, in this article, we show you different ways to go about it.
Let's dive into it.
Clean the camera lens regularly
To keep the camera lens of your phone free from dust, smudges, and fingerprints, you need to clean it regularly. Here are different ways to go about it.
Use a lens cloth
The most basic approach is to use a dry microfiber. They are soft and require no additional substance to clean the lens. Just fold it into the desired shape and gently rub it against the lens. It should easily remove dust without leaving scratches. The best part, they are washable and reusable allowing you to use them for extended periods. While they are effective at removing simple dust particles, they can be lacking when it comes to stubborn stains. As such, you'll require a cleaning fluid.
Use a lens cleaning fluid
For improved results, you should consider using the lens cloth with a cleaning fluid. They come in different forms: Isopropyl alcohol or distilled water. Both are effective at removing stubborn stains in hard-to-reach areas.
They also help the lens glass to be ultra-clear. If possible, you can opt for brand-specific lens cleaning fluids. You should avoid using ammonia-based products since they cause more harm than good to the camera lens.
Use an air blower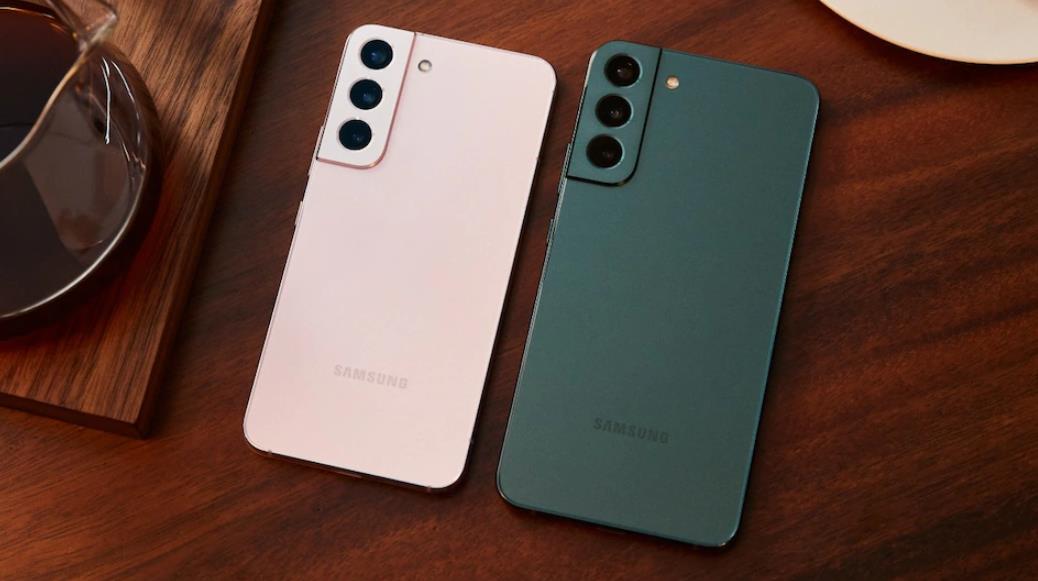 Another approach is to use a simple air blower. They blow dry air mitigating mist from forming on the lens, which will force you to use a cleaning cloth. An air blower comes in handy, especially in dusty environments. Ensure it has a soft tip to avoid damaging the lens. Avoid blowing the lens with your mouth since you might spit on it.
Use a lens tissue
While not sustainable, lens tissue can help dirt and scratches from accumulating on the camera lens. Since they come pre-moistened, you can easily wipe the lens. Unfortunately, some might leave a sticky residue. As such, it is advisable to have with you a lens cloth.
As you'd expect, a phone holder places the phone above a surface. While most people utilize it for hands-free phone use, it is ideal for protecting the lens against dirt and scratches.
Store your phone in a pouch
Slipping your phone into your pocket increase the chances of the lens getting scratched by metallic objects. This can be your keys, coins, or other accessories. To prevent this, you can use a phone pouch. You need to get one that fits the dimensions of the Galaxy S22 Plus. Ensure it has a soft inner lining such as cotton, wool, or silicone.
Avoid placing your phone on surfaces
If possible, always use a tissue or soft cloth when placing your phone on a flat surface. This prevents the camera lens from touching the dirty surface, which can increase susceptibility to scratches and dirt.
Use a camera lens protector
Finally, you can opt for a camera lens protector. And not any protector, but that which is intended for the Galaxy S22 Plus. They come in different colors and shapes so you can choose which best fits your preferences. Here are some camera lens protectors you can purchase today.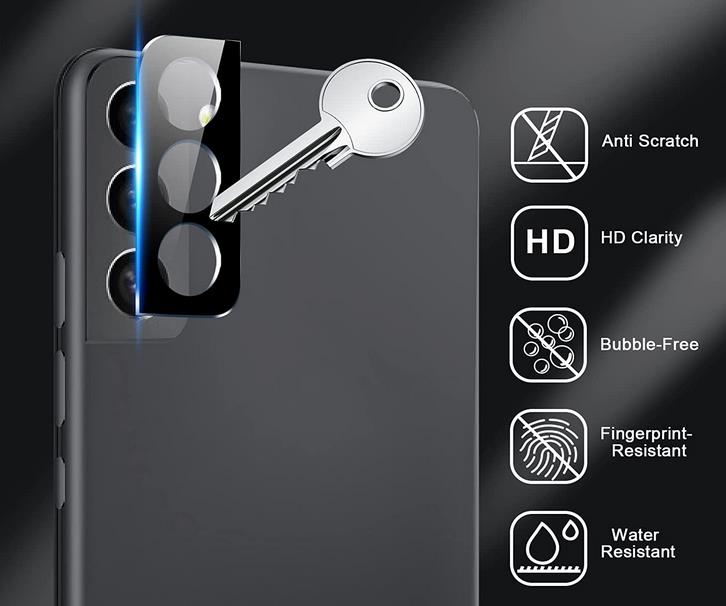 First off, we have this tempered glass camera lens protector from LESANM. It comes in a pack of three so you can use it for a long. It will not only protect the lens of your camera from dirt and scratches, but also scuffs, impact, fingerprints, water, and others.
The best part, it is crystal-clear ensuring you take clear photos and videos. And thanks to the precise cutouts, it has zero impact on the flashlight. This allows you to take photos even at night. You also get bubble-free installation thanks to the easy-to-use installation kit.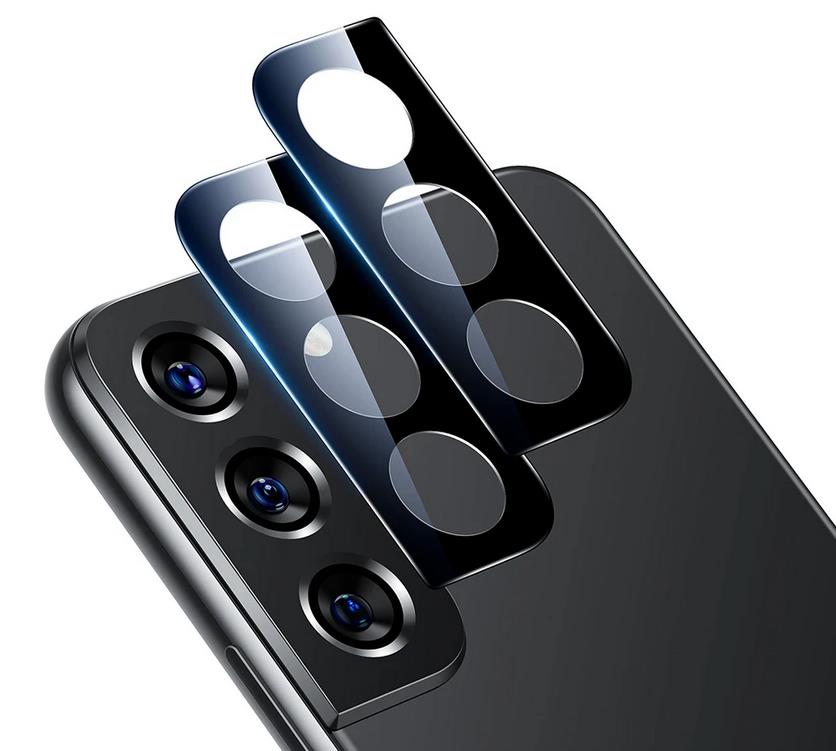 This is one of the best Galaxy S22/S22 Plus camera lens protectors you can get in the market. This is thanks to the top-notch ESR ingenuity. It has HD clarity bolstering the quality of your videos and photos. Besides, it is resistant to scratches meaning you can slip the phone in your pocket with metallic objects. You can rest assured of a perfect fit as it is specifically intended for the S22 and S22 Plus.
With it, you get two protectors and cleaning kits. And thanks to the installation kit, you get a bubble-free installation. You can use the cleaning kit to prevent the accumulation of dirt and scratches. You also get precise circular cutouts around the lenses.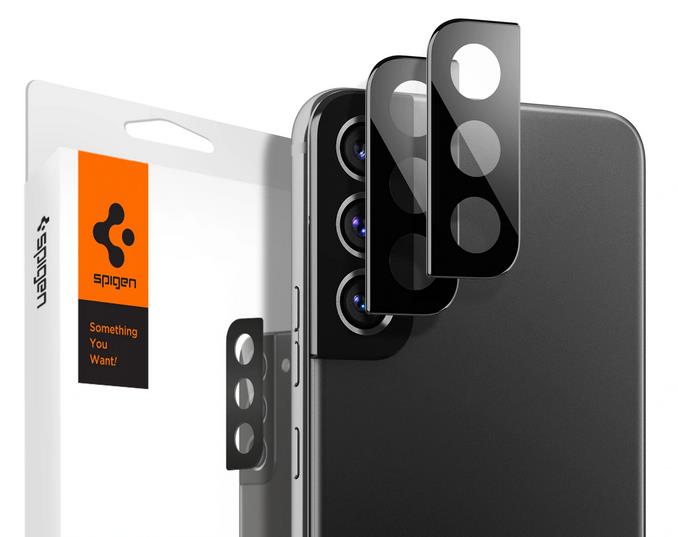 If you don't have a strong affinity for clear lens protectors, you can opt for this black option. It is slim ensuring you maintain the flat look of your phone. And thanks to the dark theme, it bolsters the aesthetic element of your phone. The simple design also ensures zero impact on the image and video quality.
As you'd expect, it is made of tempered glass hence keeping scratches, fingerprints, and dirt at bay. The strong adhesive ensures it attaches tightly to the camera module.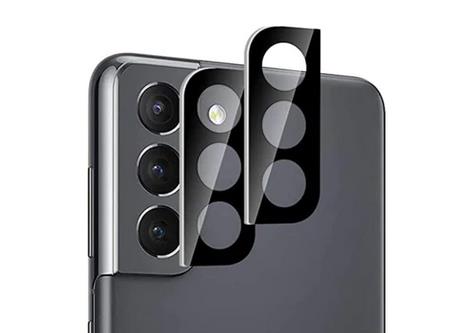 Finally, you can buy this SaharaCase lens protector which features a flexible design allowing easy installation. It is resistant to scratches and fingerprints ensuring zero impact on your camera. Thanks to the slim design, you still get the flat phone design even after installation. Like other premium protectors, it features a bubble-free installation.
Final verdict
As you can see, there are different ways to protect the Galaxy S22/S22 Plus camera lens from dirt and scratches. You can use a camera lens, regularly clean it with a microfiber or use a phone holder. Whichever the case, you are sure to maintain the smoothness of your camera lens.