Smart Wristbands are good for keeping track of your fitness goals and monitoring your health while you're on the go. The wearable device helps you analyze how active you have been throughout the day and what you need to change to be fit and healthy.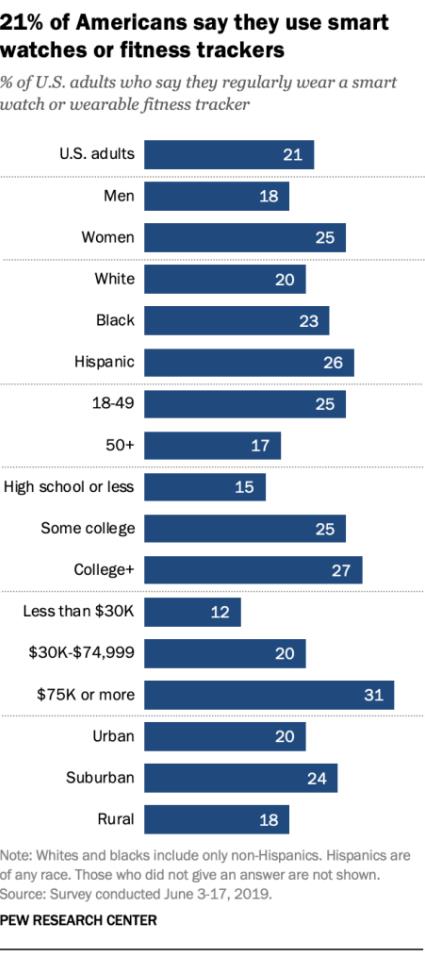 Research conducted in 2019 showed that roughly one in five US adults claim to regularly wear a smartwatch or a wearable fitness tracker.
This indicates that smart wristbands and other wearables are pretty popular as they not only look attractive but they help track your fitness parameters and accommodate your lifestyle.
What are Smart Wristbands?
Smart Wristbands, also known as smart bracelets or smart fitness trackers, are fitness-focused wearables that help users track their steps and other workout parameters. They also have health monitors so users can analyze their health and activity rate while working out.
When compared with smartwatches, smart wristbands are commonly sized at 0-1 inch, while a smartwatch has a larger screen and size that's around 1-3 inches. Smartwatches have a much more complex operating system with more features than a smart wristband, more interactivity, and more functions.
While the smart wristbands are made for specific functions and offer focused tracking features that enable seamless interaction without a hassle, they are also more affordable and have a longer battery life than smartwatches due to their specific functionality and small size interface.
Best Smart Wristband Brands To Try Out This Year
In this article, we have carefully analyzed the top smart wristband brands that you can try out this year. So, without further ado, let's dive in,
Fitbit is a wireless wearable technology manufacturer that is based in California. Since its inception in 2007, the brand has gained tremendous growth and success.
Fitbit's revenue reportedly grew from earning five million dollars in 2010 to more than two billion dollars in 2016. It did face a decline in the later years but retained its position as a billion-dollar smart wearable manufacturing company by earning over one billion dollars last year.
Fitbit's latest smart wristbands include the Fitbit Charge 5 and the Fitbit Luxe that have awesome specifications for anyone who needs a reliable tracker.
Xiaomi Mi's first smart wrist band made its debut about seven years ago, and since then, the fitness wearable band has been revised five times, ending with this year's Xiaomi Mi's Band 6.
The brand gains reputation of having affordable smart wearables with advanced features that you would find inexpensive fitness trackers and smart wrist bands.
With over 3 million in sales of the Xiaomi Mi Band 6 in a few months after its release, Xiaomi overtook Apple as the top-shipping wearable brand worldwide.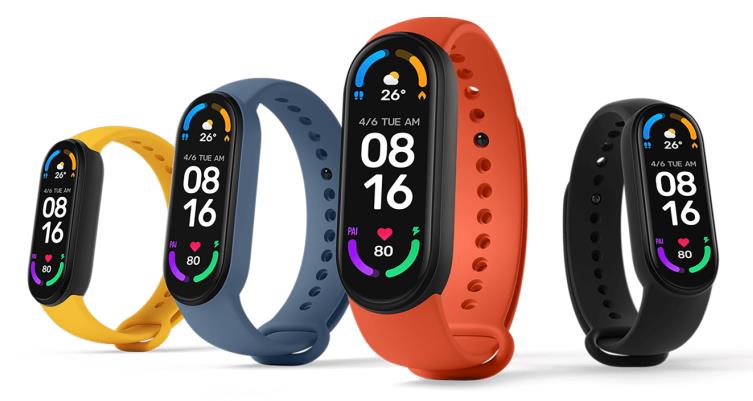 Samsung Smart wearables are quite popular among fitness enthusiasts. It currently ranks third among the top three most popular wearable brands in the US.
Samsung smart wrist bands include the Galaxy Fit 2 and the Galaxy Fit e that have a thin and stylish design for comfortable wear all day long.
They are built for an active lifestyle with special trackers and functions and feature automated features so users can optimize their workouts and improve their fitness routines.
Another affordable smart wrist band brand is Amazfit, which promises advanced features found in premium fitness trackers at a fraction of the price.
The company was founded in 2015, and since then, the brand has offered fitness trackers, smart bands, smartwatches, and other health and sports-related equipment.
The latest Amazfit Band 5 has a price tag below $50 and an impressive 15-day battery combined with blood oxygen (SpO2) reading, stress level monitoring, heart rate tracking, alerts, sleep tracking, built-in Amazon Alexa, and several other high-end features.
Withings is another smart wearable brand that offers precise health and activity tracking without breaking your budget.
Their smart band, the Withings Pulse HR, is a health and fitness activity tracking smart wrist band that monitors sleep patterns, heart rate and other parameters.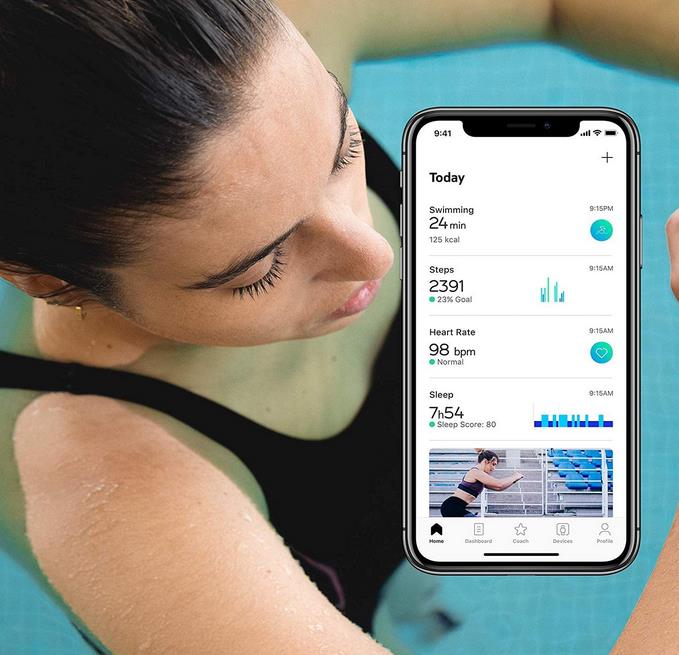 Moreover, the fitness band has, water-resistance and long battery life of up to 20 days, so you can just charge it once and let go of your worries of your smart wrist band running out of battery while you're on the run.
Garmin is also a fitness tracker and smart wearable manufacturer that offers advanced health and activity tracking devices for people who like to stay healthy and fit.
The company manufacturers smart wrist bands and watches for everyone, from fitness enthusiasts, to seniors who like to stay fit and healthy and also kids, so they can stay in shape and learn the importance of staying active from their childhood.
Garmin's Vivosmart 4 is an excellent fitness wrist band that offers precise insights about sleep and stress patterns, breathing, and motivating workout plans. While another tremendous smart wristband by Garmin is the Vívofit 4 that has an impressive one-year battery life, so you never have to charge your wristband and easily focus on your health and fitness goals.
Polar is famous for making smart wrist bands that fit easily on small wrists. The smart wearable company focuses on making fitness trackers for people with small frames who need to maintain a healthy and active lifestyle.
Polar's A370 is a great invention that is packed with superb fitness features and notification alerts as well. Their latest M430 is a smart running watch that helps track running speed, distance, pace, and routes with integrated GPS, daily activity including calories burned, sleep patterns, and steps tracking.
Moreover, the smart wrist band also has an optical heart rate monitor that reports continuous heart rate without a chest strap via its six LED optical sensors.
Amazon has been investing a ton of unique products, and their smart wrist bands are no exception. The Amazon Halo Band is a smart wrist tracker that measures how you move, sleep, and even sound.
It is made to monitor your spoken interactions and detect changes in your psychological state and provide helpful feedback to maintain your emotional response and status. Other than that, it also offers activity tracking features that help you achieve your fitness goals.
The latest Amazon Halo View is an upgraded version of their Halo Band that helps you measure activity parameters, health status and have on-the-go control with live workouts, move reminders, and text notifications as well. Both smart wrist bands are also compatible with Alexa.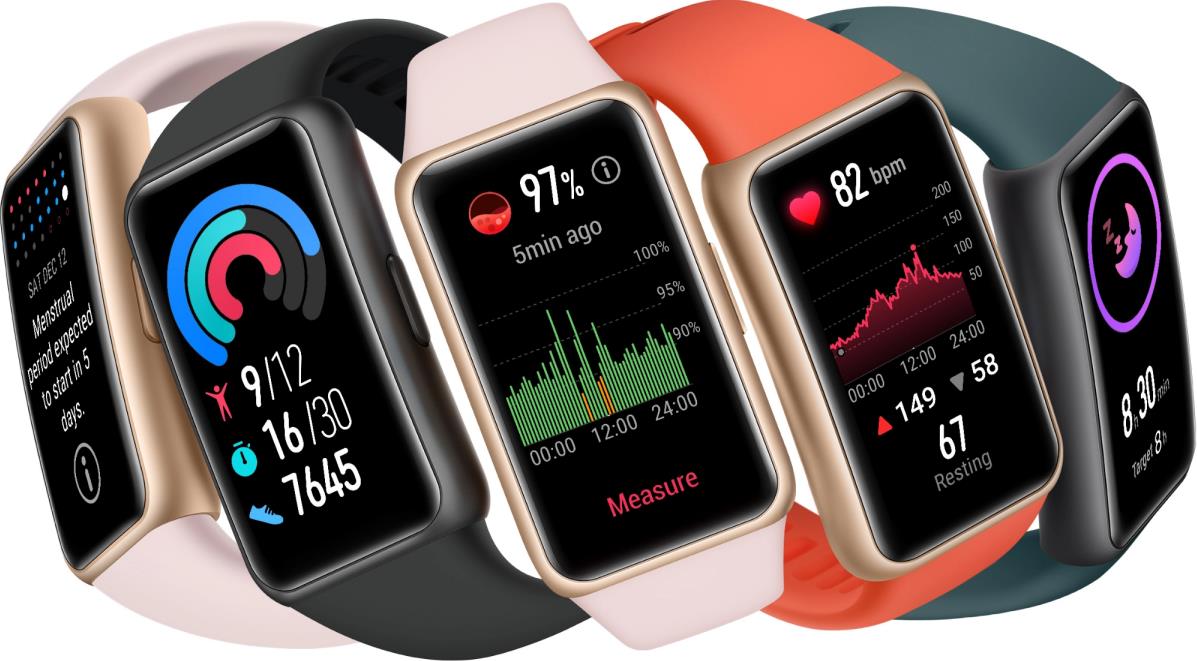 Next up is Huawei, which manufactures not only smartphones but also smart wearable tech for fitness and health purposes.
With an affordable price tag, the Huawei Band 6 offers impressive features and specifications. Even though GPS is omitted, users can benefit from the numerous health trackings features such as blood oxygen levels and heart rate monitor.
Other than that, the smart wrist band features a 1.47 inch AMOLED display, 5ATM water resistance, 96 workout modes, and stress tracking featuring among others,  making it ideal for workout and fitness goals.
Last but definitely not least is HONOR, a sister company of Huawei, which offers smart wearable tech that doesn't fail to impress us.
Their latest HONOR Band 6 is far from perfect, but the price tag makes up for it, and the design, features, and specs combined make it a decent option for people who need an affordable fitness tracker with water resistance; excellent battery life, and a big interactive screen.
It holds up pretty well when using it while working out and helps analyze your health parameters all day.
Conclusion:
If you are looking for a smart wearable device that you can wear every day to track your lifestyle habits and activity, you need a smart wristband. The smart wristbands are made for sporty, fitness-focused individuals who need to wear a smart tracker all day.
Since they have only fitness-focused specifications, compact design, and no fancy tech display, they usually have a longer battery life than smartwatches and can track your activity all day.
So, which brand do you like best when considering a smart wristband? We prefer Fitbit smart trackers due to their fantastic fitness tracking features and long battery life.